Training
Meet the Trainer
Circle of Friends has one in-house trainer who is excited to work with public as well as animals we have in the shelter. Jessica has been training dogs for 3 years and has worked as a Petsmart trainer as well as private lessons. While working in Arizona, Jessica worked with trained service dogs, as well as agility and competitive obedience. Jessica has a passion for training animals because it helps their quality of life in a house and it also makes pets more adoptable in a shelter environment. Jessica uses positive reinforcement methods to help train faster and it is more rewarding for all involved.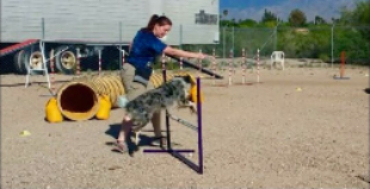 Services Offered
Basic Obedience Training runs for 6 consecutives weeks and cost $80. Topics covered are sit, down, leave it, stay, come when called, leash walking and focus. This class can be for new pet owners as well as veteran pet lovers who need a refresher. 
Feisty Fido is an obedience class for dogs who are animal and people reactive. The class runs for 6 weeks and costs $80. Topics covered are leash, kennel, and boundary agression. After leaving the class, you will know the necessary commands and skills to teach your dogs to leave it, watch you and come. 
Private Lessons can be done for one, one hour session for $40 in-shelter  or 4 weeks for $100 in-shelter These private lessons can be for any behavioral issues or specialized training. Lessons can also be conducted in-home for $200 for your convenience or $60 per lesson. Call Jessica at 701-775-3732 to sign up for one-on-one lessons! 
Canine Good Citizen is an 8 week course designed to get an AKC Certification as well as getting your dog prepared for public access (therapy dog, service, etc.) The cost for this course is $100 and for those who are interested in getting their dog certified as a therapy/service dog. Formal testing for CGC and therapy can be done through the Grand Forks Kennel Club. 
Any questions email Jessica at dogtraining@gfpets.com
Check out the Events Calendar link below for sign up information!